Alpacas Buhunds Fibre Works Gallery Shetlands
April got to be business development month for Fibre Works Farm this year. We finalized the new Fibre Works logo, letterhead and business cards and started working on the web site [so far so good]. Not tasks normally included in our yearly cycle but ones that are important for widening our horizons.
Fibre Works Alpacas: Great news on the Canadian Camelid Fibre Co-op front. CLAA has agreed to fund some of the costs of the membership drive for the Co-op. Donations of auction animals from Mountain Meadows Ranch and Willowridge Ranch to the Breeders Select Sale also raised much needed funds to continue developing the Co-op and support the membership drive.
Fibre Works Shetlands: April 26 marked the official start of our lambing season. So far we have twin ewe lambs from Sheba and still expecting. We are happy to pass on lambing news from Crocus Ridge Ranch [twin ewe lambs to Fiona and a ram and a ewe lamb to Liz]. The Baker flock near Crossfield has also been busy lambing with eight so far and still expecting.
Fibre, Yarn and the Fibre Works Gallery: We sheared the Shetlands mid-month and picked and skirted fleeces on and off for several weeks. We have some truly exciting yarn runs going to a variety of mills in Western Canada. We are trying a blend of some of our finest black and grey Shetland wool with similar colours of alpaca fibre. We hope this will produce a balanced yarn with good memory and the wonderful softness and incredible handle of the fine Shetland and alpaca fibres. We also have some beautiful light fawn alpaca cria being blended with tussah silk, some gorgeous llama and silk and a wide variety of other yarns and products that we hope to have on the cyber shelves at the Fibre Works Gallery this summer. One of our fibre projects that came to fruition in April was with Norma Westcott of West Cottage Weavery. She finished off some custom ordered woven blankets using primarily alpaca yarn with some silk and wool. Her work is exceptional and the quality of the fibre makes these blankets something special. Pictures of selected blankets are on display in the Fibre Works Gallery.
Bergen Norwegian Buhunds: Treva and I finished off our novice obedience classes in great style. She did a stellar job, usually learning faster than I did. She has a great enthusiasm for work that we will try to maintain. We started introducing Treva to the horses and the sheep as well. She is very eager to start her stock work but we will be going slowly, especially as Shetlands with lambs are hard to work and Treva and I are both beginners.
Farm Stuff: We built a variety of sheep panels this month, to improve our stock handling set up. I hope the panels are tall enough that they will work for the alpacas too. My favorite panels are the ones we made out of cut up hog panels. They are easy to move, don't block the view and seem quite sturdy. I used bolt cutters to cut the 16' hog panels to the lengths that I wanted. 8' and 4' seemed very useful. I cut treated 2x4s into 3.5' lengths, one piece of 2x4 for each end of a panel. I drilled two holes into the 2" face of each 2x4 and screwed a large eyebolt into each hole. I used galvanized poultry staples to fasten the cut panels to the 2x4s. The eyebolts line up and rebar or tie rods are inserted to link the panels together. I also tried some panels out of 2x4s and 1x4s. They seem fine but do interfere with my ability to see what is happening on the other side. Note the wily beast I managed to corral with these handy things.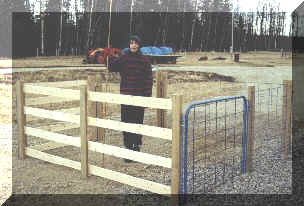 Computers she used to debug,
But she gave it up with a shrug.
Now sheep are Kim's game
Wild, friendly or tame
And the fibre ends up as a rug
Link to Mountain Niche Farm