Fibre Works Farm Main Page
.. .
...
Limerick
Collection
..
..
2000 Archives
1999 Archives
Spring 2001 Journal
Winter 2000 Journal
Fall 2000 Journal
Summer 2000 Journal
Spring
2000 Journal
Alpacas Buhunds Fibre Works Gallery Shetlands
September
has been both a glorious month and a chaotic one. While the weather has been wonderful, we also move our stock to winter pastures in September and that makes things a little hectic. The sheep, the horses and the ponies are all back at their Crossfield winter homes. Our family, including the dogs, is back at home in Calgary for now.
Moonshine and the other crias at Brewster's are all thriving. Moonshine has discovered the joys of rolling in the dust baths and is presently a little bit grey looking. He still has that amazing crimp and underneath the dust, is very lustrous. New pictures at the paca photo album. Shelly has been bred back to Lionel, as we would still very much like to have a Lionel/Shelly daughter.
We had a bit of bad news this month on the Shetland side of the operation. One of the rams that we had hoped to use for breeding this year, a fine crimpy black, was injured in a ram fight and so will not be available. As a result, we are doing a little more sheep shopping and will likely be bringing in new bloodlines from Washington and/or Ontario. As always, we will be looking for superior fibre, strong conformation and good horn development. We will be updating our sales list once we know what other sheep we will have coming. Halo is still for sale at this time. If you are looking for fleece that is fine and soft and dark, we should have some sheep to interest you. We will also be wethering the ram lambs that do not meet our exacting standards for breeding. These will be ideal as companion animals, pets or fibre producers. Most are halter trained. Please email for details. On the breeding side, we do hope to use at least two rams again this year. One may be Sheridan as all his lambs have turned out fine and crimpy. We hope to have a fine, crimpy black candidate too but just have to wait and see what comes of the shopping. We have started flushing the ewes in anticipation of breeding season.
We are currently getting more alpaca fibre ready to send to several mills. Most of it will be processed into 100% alpaca yarn. Some of it will be blended with Shetland wool for variety. We have some very fine Shetland yarn that we hope to start lace knitting with. So many projects! If you would like to order a custom piece, out of either alpaca or Shetland or both, please contact us for colours, sizing, pricing, etc. We will be updating the sale shelves in the Gallery too, as soon as time permits.
Both Treva and Tjalfi are starting to coat up for the winter. Treva's coat colour is lighter than Tjalfi's. She may darken a little as her adult coat comes in. Treva started a novice polishing obedience class this month. Great fun so far. She still learns faster than I do. Tjalfi loves to do the work for the Open class, especially the jumping. I have promised him that we will do some serious training with him as soon as I finished this session with Treva. We are hopeful that we may be able to trial the dogs in the coming year, time and maternity duties permitting.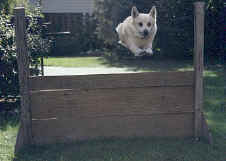 Farm Stuff: The barn project keeps moving along slowly and we have also started construction on the Machinery shed. All of the trenching is finished and the waterers will be installed next. So far, so good, just a little slower than expected. As soon as we have the construction finished off, we hope to put some more fencing in place before freeze up. Of course, staining the barn and the shed will take up quite a bit of time too. However, the wood siding seems much sturdier than aluminum and we hope both buildings will be very enduring.
Buhund dogs are smart as a whip,
Can be trained to jump and to skip.
Always eager to herd
Sheep, cattle or bird,
Hard workers with joy, zest and zip.
Dee Parsons
Willowrose Labradors
Member of the Obedience Partners Training Team