Fibre Works Farm Main Page
.. .
...
Limerick
Collection
..
..
2000 Archives
1999 Archives
Spring 2001 Journal
Winter 2000 Journal
Fall 2000 Journal
Summer 2000 Journal
Spring
2000 Journal
Alpacas Buhunds Fibre Works Gallery Shetlands
April
has given us quite a chill to start with. I wanted to move the puppies to the porch early this month, but the chilly temperature and snow convinced me to leave them in the family room for a few extra days. Lots of puppy puddles to clean up! Still, with babies in the house and in the barn, it really does feel like spring.
Moonshine is doing well with halter training. We are trying to coordinate various schedules to figure out which shows he will attend this year. So far he is looking very nice, except for the amount of dirt he has managed to collect in that fine, shiny fibre! Shelly and the others are all doing well. Cria due in August. We are really hoping to have a female this year after boys for the last two years. The Canadian Camelid Fibre Co-op is making great progress. It now has its own web site at: www.cancamco-op.com where you can view their latest news.
Wild Rose had a very large, curly, marbled grey ram lamb, now known as Bayberry, on April 2. No problems but we had hoped for two. Gayla did have twins on April 5, but the ewe lamb was very small and died shortly after birth. Her ram lamb Brendan is very black and doing very well. Sheba also gave us two vigorous, curly black boys, Sabre (with a Krunet head) and Samba (all black). Sassy has a large black ram lamb, Blarney and a smaller, very pretty ewe lamb - Brio. Arvik also gave us twins. A big, black, strapping viking girl named Brigitte and her vigorous, varigated brown brother Bjorn. So far, we are still waiting to see what surprises Serenade might have for us. More ram lambs than ewes but all in all, a very nice crop. We will have both ewes and rams for sale later this year.
Not much to mention on this front. Too busy with babies!
The puppies are a joy. They are thriving and are constantly surprising us. They frollicked in the snow when it came and now really enjoy the out of doors in the milder weather. At five weeks, they learned how to climb around the baby gate and invade the living room. It seems they wanted to experiment with puddles on the carpet. We weaned them at six weeks and are starting with collars and a few basic rules (such as don't chew on humans). See the latest pictures from the Puppy Page.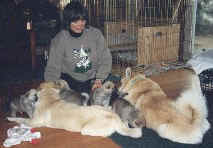 Farm Stuff: Wiring on the barn seems to have taken up most of April. We will blow the insulation in soon and then get the plumbing hooked up. Just in time to move to outside projects as we have an ambitious amount of fencing to do this year too. Right now we, are trying to plan the best gate locations so that moving stock and feeding is efficient and easy. We will also be experimenting with feeder designs again as we still have too much vegetable matter in the fleeces.
Limerick Link For April:
CanCam Co-op's just the spot,
To send llama fibre you've got,
And alpaca too.
Whatever you do,
Make sure your membership's bought.