Alpaca Homepage
....
CanCam Fibre Co-op
Alpaca Information
..
Alpacas for Sale
Alpaca Fibre
....
Alpacas in Canada
....
Alpaca Links
....

Fibre Works Farms breeds Huacaya alpacas, justly famous for their exceptionally soft, crimpy fleeces. This fleece can be both finer and stronger than merino wool or cashmere and often exhibits a beautiful lustre all its own.
Average annual staple length of Huacaya fleece is 10 to 15 cm, 5 to 6 inches. The average diameter of the fleece is measured in microns and can vary from less than 20 microns (very fine fibre) to over 30 microns (coarser fibre). Fibre Works Farm is breeding for animals that produce a uniform fleece in the under 25 micron range over the majority of their bodies. Of course not all of our animals are this fine right now and we are working to improve density, coverage and uniformity. As is often the case, we do not yet have everything in one package!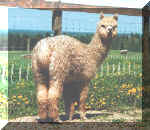 Alpacas also produce a great number of colours and shades of fibre. White, champagne, light fawn and peach, rich golds and honey tones, silvery greys, maroons and russets, burgundies and black are only some of the myriad of exquisite colours found in alpaca fleece. The Colour Chart in the Fibre Works Gallery gives examples of some of the natural colours. In addition, the white and lighter colours of alpaca fleece easily accept almost any colour of dye. The darker colours of alpaca fleece yield darker, richer jewel tones when overdyed. In commercial operations, darker colours of fleece are sometimes bleached so that they can also be dyed any colour.
Many people remark on the unique smooth, soft "hand" of alpaca fibre. "Hand" or 'handle" is the way the fibre feels to your hand or cheek. The individual fibres making up an alpaca fleece have a structure that differs significantly from wool. This difference in structure probably accounts for the lack of prickle or itchiness in most alpaca fleece. Some alpaca fleece is finer and less prickly than other alpaca fleece but the overall characteristic fine hand is behind alpaca fleece's reputation as a luxury fibre.
Alpaca fibre is hand spun, custom milled or commercially milled in a wide variety of yarn styles. The intrinsic tensile strength of alpaca fibre gives it a durability that is often superior to wool. This translates into long wearing products that delight the senses as well as providing for functionality. The Fibre Works Gallery offers raw alpaca fibre and alpaca fibre rovings for sale as inventory permits.